Gotta Have It Green Mustang Boss 302 Spied At Detroit Auto Show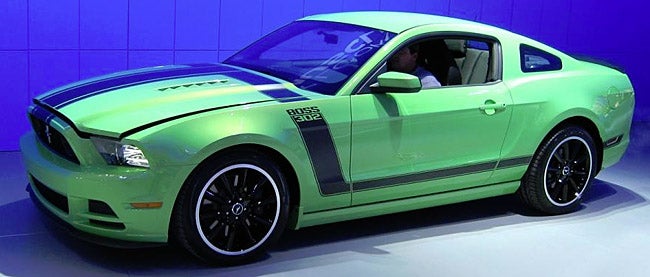 In December Ford Motor Company officially announced the new Gotta Have It Green paint option for the 2013 Mustang lineup. However the color debuted on a modified Mustang GT, not the car that was rumored to be getting it in the first place, the 2013 Boss 302. Then at the Indy Auto Show Ford brought out another 2013 Boss Mustang in Grabber Blue; still no Gotta Have It Green Boss in sight. Finally today Jalopnik's Ray Wert was able to snap a few pictures of a 2013 Boss 302 in the Gotta Have It Green paint color just days before being unveiled to the public at the Detroit Auto Show. Go check them out!

Related:
Gotta Have It Green Officially Announced
Gotta Have It Green 2013 Mustang Pictures Leaked?
2013 Boss Mustang Unveiled!
2013 Boss 302 Photos
2013 Boss To Get New Colors?