The 2005 Mustang is now available in a "Body in White"
Ford Racing is proud to announce a 2005 Mustang Body-in-White program for grassroots racers.

Anticipation for the 2005 Mustang among enthusiasts, media and the racing public has been feverish as the all-new cars are finally arriving in dealerships across the country. From the day the redesigned Mustang was unveiled, racers have been asking when a program just for the Body-in-White would be available.

Now, Ford Racing has been able to procure a limited number of these bodies from the production line for racers only. Racing credentials and history will be verified prior to sale. MSRP is $3,500.

If you are interested in a 2005 Ford Mustang Body-in-White, please fill out an application form and send it back to FRPP.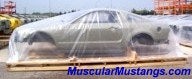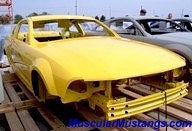 Info and images courtesy of
Ford Racing Performance Parts