Ford Mustang Gallops Back to the Track


-Mustang is at the core of the Ford Racing Performance Parts business and has always had a high consumer demand for performance and racing modifications.

-Mustang commands nine percent of the total market of vehicles that get modified – more than any other single vehicle nameplate.

-Ford Racing Performance Parts plans to offer everything from a 2005 Mustang "Body-in-White" to a race-prepared competition version.

-Ford Racing's 5.0-liter Cammer V8 crate engine will be the centerpiece of a racing program.

-Discovery Channel program "Extreme Mustang: Back to the Track" documents the development of racing parts for the new Mustang.




LAS VEGAS, Nev., Nov. 2 – Acknowledging the Ford Mustang's storied racing history and pivotal role in the performance parts aftermarket, Dan Davis, Director of Ford Racing Technology, today announced plans to continue Mustang's presence on the race track with a new performance parts and competition program.

Davis revealed a race version of the new Mustang during Ford's press conference at the Specialty Equipment Manufacturer's Association (SEMA) show. The Ford Racing Mustang show car is painted in legendary Bud Moore "orange and black" livery, replete with the number '15' in deference to Parnelli Jones' Mustang Boss 302 Trans Am car.

"The Mustang is synonymous with performance modifications and competitive racing," Davis said. "It has an unparalleled pedigree in many forms of racing, and the all-new 2005 Mustang makes a terrific platform to continue that history of racing competition and victories.

"Ford Racing Performance Parts will be the one-stop shop for performance and racing when it comes to the new Mustang. We're going to offer everything from a 'Body-in-White' for the do-it-yourself builder, to performance upgrades for the shade-tree mechanic, all the way to a full ready-to-race competition car for the grassroots motorsports enthusiast."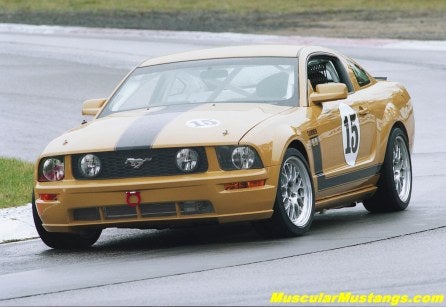 Competition Program
The Ford Racing Mustang competition program will offer a multitude of options for the grassroots racing participant. Ford Racing aims to bring factory engineering and know-how to the development of race-prepared chassis and vehicle offerings. Mustang is a proven competitor in many forms of racing, and this program will cater to both drag and road racers.

The first offering from the competition program is a road racing-spec Mustang. It is a ready-to-race track car that could compete in a variety of road racing series. At the heart of this package is Ford Racing's 5.0-liter Cammer V8 engine. The Cammer crate engine already has a racing pedigree, with a Robert Yates-built race version powering the Ford Focus Daytona Prototype to a class win at the 2003 Rolex 24 Hours of Daytona.

"The Cammer and the new Mustang make a perfect combination to go road racing," said Davis. "We've already done a significant amount of testing of the Cammer in our Daytona Prototype program, and the engine is a terrific performer."

The Cammer V8 is available as a crate engine through the Ford Racing Performance Parts catalog. The 5.0-liter Cammer is built from Ford's family of modular V8 engines, including the 4.6-liter DOHC supercharged V8 found in the SVT Mustang Cobra. The Ford Racing Cammer crate engine produces 420 horsepower and 370 foot-pounds of torque. It features electronic fuel injection and comes with "plug-and-play" electronics, including the wiring harness and engine computer, for easy installation in a variety of projects from race cars to hot rods.

The Mustang competition program will help extend Ford Racing's grassroots motorsports support back into the road racing community. With the variety of race series available to entry-level up to semi-professional drivers, the goal of the program is to provide a competitive car – both in performance and value – based on Ford Racing factory knowledge and race experience.

"Ford Racing's grassroots motorsports efforts, including support of the popular USAC-sanctioned Focus Midget series, have been extremely successful in providing opportunities to go racing at a good value," continued Davis. "The Mustang road racing program will capitalize on our crate engine program and the Mustang's successful history in racing.

"We're investigating and talking with several sanctioning bodies right now to determine where we want to take this product first. The beauty of this program is that the foundation and package is purpose-built and factory engineered to be competitive at many levels of racing. Only series-specific equipment and regulations will need to be applied to fit the road race-spec Mustang into different types of competition."

The chassis, or "Body-in-White," has been seam-welded and the safety cage has been structurally optimized and designed for ultimate vehicle performance, durability and safety. This race-prepared chassis allows Ford Racing to extend its offerings to include other types of racing, including drag racing.

For the drag racer, Ford Racing is investigating the availability of a rolling race-prepared chassis that can be built up using the performance parts catalog of crate engines, transmissions, suspension components, rear axles and gears.

"The possibilities of this program are truly endless," said Jamie Allison, Manager, Ford Racing Performance Parts. "We're going to keep listening to what Mustang enthusiasts want, and do our best to deliver performance options that are factory-engineered, tested and built to the highest standards."




Performance Parts
Ford Racing has years of experience and knowledge developing performance parts for Mustang enthusiasts. The Mustang represents the single most important model vehicle for the Ford Racing Performance Parts business, and it is the No. 1 vehicle most modified by consumers as ranked amongst all single-vehicle nameplates.

"Although Ford Racing Performance Parts has a growing line-up of parts for Focus and F-150, the Mustang is the heart of our business, so we've made a commitment to developing a variety of parts for enthusiast owners," continued Allison. "From performance crate engines to wheels, and suspension upgrades for what is now last-generation Mustangs, we've got it all. And we plan to do more of the same for the 2005 model leveraging the Mustang competition program."

Initial offerings in the catalog will be available in the first quarter of 2005, with continuing roll-out of new parts over the course of the year.

Powertrain enhancements include a bolt-on, screw-type supercharger package for the Mustang GT's 4.6L 3-valve V8, including the necessary calibration change. Other powertrain enhancements include a tubular header system, cold air intake system, and cat-back exhaust.

The catalog also includes a strut tower brace, further chassis and suspension packages, and 18 x 9-inch performance wheels all available early next year.

For those enthusiasts wanting to not just perform better but also look better, Ford Racing has joined with 3d Carbon to offer a "GT-R"-style body kit that is reminiscent of the Ford Mustang GT-R concept car from the 2004 New York Auto Show.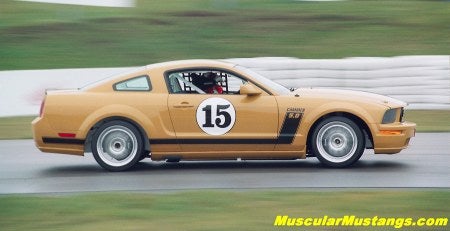 Body-in-White
Ford Racing is now the sole distributor of 2005 Mustang "bodies-in-white" (BIWs) that many builders use as the basic structure to build race cars for a variety of different competition series, from road racing to drag racing. These bodies are sold for off-road use only and can be built up using any of Ford Racing's crate engines.

For a builder to purchase a BIW, an application must be submitted to Ford Racing for review before release of the body for purchase. Applications can be found on the Ford Racing Performance Parts website: www.fordracingparts.com

Discovery Channel's "Extreme Mustang: Back to the Track"
The Discovery Channel joined with Ford Racing Technology to give racing and automotive enthusiasts an inside look at the decisions and processes that are part of the Mustang competition development program. The resulting documentary, "Extreme Mustang: Back to the Track," gives an unprecedented look at this exciting racing program from its inception to the first track test.