2005 Steeda Mustang Sightings
Below is a press release and images courtesy of Steeda Autosports. There are also links to two videos of their awesome 2005 Torch Red Steeda Q Mustang drag racing at the Orlando FFW event.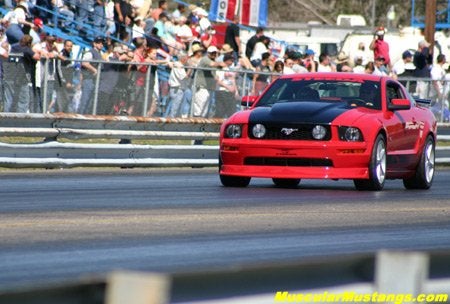 Since the Steeda Mustang Q was chosen as the Official Car of the Fun Ford Weekend Drag Racing Series this year, we knew we'd be seeing some track time. Yet while several '05 Mustangs were seen drag racing at the season opener in Orlando, we had the track to ourselves for solo parade laps for a few, shining moments on Saturday and Sunday.



On Saturday, as Pat (FFW's announcer) made the call from the tower, ably assisted by our own VP of Marketing, Austin Craig, Scott Boda lined her up, lit 'em up and then made a pass at speed. Sweet!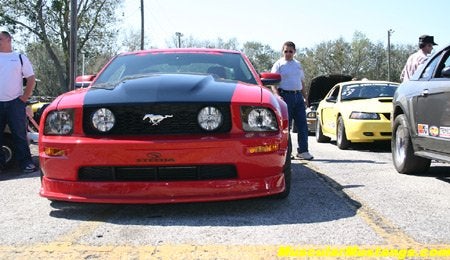 On Sunday, Austin took the wheel as Pat sang solo about the Torch Red Q! Pretty speedy for 'parade' laps, there guys.

VIDEO:
Scott's Pass | Austin's Pass

Our Screamin' Yellow Q is on it's way home - and for those who miss her, we dug out a shot submitted by Ford execs from Chicago that we haven't featured on our site yet. The Canadian Car Show season is underway, too - Jeff Dann from Bishop Sales Ltd. had his Canadian SYQ on display in Edmonton. Jeff has more photos online Edmonton. The SYQ-CA also shows up in "The Fever of Tuning" display on the Montreal Auto Show site.



And Steeda fans will have to actually start reading the ads in their favorite motoring magazines - the 2005 Steeda Torch Red Q was selected as the feature car for the 'Unleash All Your Horses' Quaker State advertising campaign. The campaign promotes the new Quaker State line up of their heat-activated "Q" full synthetic and synthetic blends. The Steeda Torch Red Q with the underdrive pulley system and cold air kit unleashes 350 horses of Ford V8 modular power, making it the perfect fit for the new Quaker State Q line up.



Quaker State's new advertising agency, Doner, sent a creative team led by Senior Art Director Mike Lupin, from their Detroit headquarters to the Steeda Campus in Pompano Beach to photograph the Torch Red Q. Look for the ads to appear in enthusiast and sports publications this Spring. And keep flipping the pages - our friends at Nitto Tire worked with the team at JBA/Steeda West on another photo shoot, this one featuring their stunning Satin Silver Q. The car was also on display in Nitto's exhibit at the NHRA Winter Nationals in Pomona, CA.



We're as pleased as first-time parents with all of the response we're getting to the turnkey Steeda Mustang Q program, and have ramped up production to meet demand - both at our South Florida facility and with our partners in California (JBA/Steeda West) and in Michigan (Total Performance/Steeda North).



Steeda New Vehicle Program Manager Mike Morella is standing by with answers to your questions on the cars (Yes, you can get a Q in any color, and Yes, we have some interior shots for you). Reach him at 954-960-0774 ext. 110. or at

[email protected]

. And if you pick up the May issue of Muscle Mustangs and Fast Fords, you can see Mike in action on page 28, glad-handing with Todd Regnaert as he took delivery of the first Steeda Customer Mustang Q, #003 in the limited edition series.