2007 SVT Mustang Cobra
With all of the speculation flying around about the 2007 SVT (Shelby?) Mustang Cobra nobody really knows what to believe. It seems as though everyone has heard "from a friend" what this supercar will hold in store, yet with nothing to back it up it's obviously all rumor. So what are we to do about all of these rumors?? Add to them...LOL

Listed below are posts we've found on numerous message boards and forums. Also below are a few pictures that some sites were claiming to be the 2007 Mustang Cobra.

Here are a number of pictures posted on the Mustang Evolution Forums Original Post


There was a video posted on the Superstallions.com Forums of an '07 Cobra test mule. We are unsure of where this video originated. As you can see there are now two links to this video as the first was up and down.
http://69.142.158.22/gt/cobratestmule1.wmv
http://home.ptd.net/~quic5pt0/cobratestmule1.wmv
Here are two images from the video. Apparently the '07 Cobra will have cross drilled brakes! Also check out the hood and special wheels used.



From the SVTPerformance.com Forum: See original post here
While listening to a local California Radio show on 790AM, a very interesting event happened. The shows personality, a well known local individual by the name of Leon Kaplan AKA the "Motorman", had Carroll Shelby on today...When the questioning got to the issue of a new Cobra Mustang, Carroll Shelby confirmed that the car will be the "Shelby Cobra", it will have a "5.4 liter, 4-valve per cylinder motor". I believe he stated the Horsepower to be in the 500 plus range. " He also said the vehicle will be priced reasonably for what is being produced......He mentioned it will be at the NY Show on the 25th of March....I almost had a heart attack on the Freeway, while listening to the program, but I think the cloak of mystery is being pulled off the new Cobra, very quickly now

From Autoweek Magazine: (Thanks to Glenn from the Superstallions.com Forum)
Maybe all the fretting, all the online chatter, all the enthusiast gnashing of teeth about the future of Ford's Special Vehicle Team is unwarranted. Maybe we are just seeing a lull in production at that granddaddy of domestic in house performance tuners.

"I hope so, or else I'm out of a job", says Ford engineer Hau Thai-Tang, the newly named director of SVT, replacing the icon John Coletti who reitred at the end of 2004.

Something tells us Thai-Tang, the Vietnamese native who recently completed his self described dream job as chief engineer on the 2005 Mustang development team won't hurt for work anytime soon. But whether that work focuses on future SVT vehicles, and what form those products might take, remains to be seen.

Rest assured, though, Thai Tang and his boss, Ford product creation vice president Phil Martens are saying the right things. Martens will admit he was getting upward of 15 letters a day from alarmed SVT faithful after Coletti's retirement announcement. But his answers to them:
-"SVT is actually bigger, staff wise, than ever before"
-"We see SVT growing to about five products"
-"SVT is, and will remain, a Ford branded product"
-"The core of every SVT program is it's powertrain, second is chassis dynamics
-"The next generation Cobra will be the best one ever"

Martens, who approved the next SVT Cobra a day before we interviewed him in January, pointed to the Mustang as an example of a product engineered from the outset with an SVT version in mind.

SVT products need to be created as part of a model plan instead of being developped after the main product line has left the drawing board, he says. That way it will prevent embarrassing program delays or cancellations, and allow Ford to use SVT as a launching pad for new performance technologies, says Martens.

That's fine when it comes to finances and product planning, but doesn't a large portion of SVT's success lie in it's independence from the mother ship? Or are they starting to learn lessons about integration from upsstarts at Chrysler Street, and Racing Technology and GM Performance Division?

Martens says SVT will remain a stand alone operation, at least physically, but the team will now enjoy a direct line of communication to the product development office. "We really need to bring SVT back to it's roots, into the mainstream of product development, if we're going to take SVT to the next level. SVT needs to be an integral part of product development."

So what can fans expect? Martens says SVT will maintain it's core of high performance V8 powered rear wheel drive vehicles. It will expand into inline four cylinder cars as well. And it will brake ground venturing into all wheel drive performance models. Turbo and superchargers also figure prominently. And SVT will draw heavily on lessons learned developing the Ford GT , from it's racing experience, and with engineers who bring cross systems expertise.

Thai-Tang says under his stewardship he aims to make sure SVT core values of performance, exclusivity, substance, and value remain intact. "It's easy to build a strong performing $100,000 car" he says. "It's a lot harder to do a strong performing $20,000 car. You have to be a lot more creative."

Martens admits even when you put all the pieces in place, you still must have "the moxie to develop the products, you have to have people with cars at the core of their essence."

One of those guys, SVT papa Coletti, wishes his successors the best: "We've laid down a lot of rubber, and I hope the company will continue to do that."

--LOOKIN' LIVE--

When Ford rolls out the SVT Cobra version of it's all new Mustang at the New York auto show in Mark, take a peed underneath. If our sources are right, your prying eyes will spy a live rear axle, not independent rear suspension, the setup that would be in keeping with the suspension on the outgoing model, and is therefore anticipated by the SVT Cobra faithful.

Ford execs are officially mum, including product chief Phil Martens, who said as recently as the Detroit auto show that no decision had been made on the Cobra's suspension. Hau Thai Tang, chief engineer on the 2005 Mustang and now SVT chief, did hint we can expect the next Cobra to surpass 400hp (we hear 450hp) and hit the price of about $40,000. The SVT Cobra goes on sale in 2006 as an '07 model.

From the current edition of MotorTrend Magazine:
Think the 500-horse Z06 Corvette is tough? Well, the boys at Dearborn reportedly are aiming to go one better with a Mustang that packs as much as a 550 horsepower punch and wears one of the most famous names in the Ford performance pantheon: Shelby.
Powered by the same supercharged 5.4 liter V-8 as in the GT supercar, the 2007 Shelby Mustang Cobra will replace the Mustang SVT Cobra as the ultimate ponycar. But unlike the old Cobra, the new Shelby won't have an independent rear susension (IRS), as promised long before the release of the all new 2005 Mustang. Instead the Shelby will run on a beefed up version of the live rear axle used in mainstream Mustangs.

It's well known Ford originally had planned for new Mustangs to have IRS, but switched to a live axle setup to save more than $70 million in development costs and help bring the V6 and GT versions to market at their low price points. We've since learned this decision also was driven by the fact that early prototypes with IRS had only marginally better torsional rigidity than the outgoing car on the ancient Fox platform. A substantial reengineering program not only installed a live rear axle capable of handling higher torque loadings, but stiffened the entire rear body structure and added much stiffer sill panels along each side.

On paper, at least, the performance of the Shelby Mustang Cobra is expected to be electric: The 0-60 MPH time could dip below the magic 4.0 second mark with a standing quarter mile in the low 12's or even high 11's.

Under the hood: The GT's supercharged aluminum 5.4 liter V8, with full 550 horsepower on tap.
Weight: A GT weighs 3468 pounds; a Mustang GT 3520. With the aluminum block engine the Shelby Mustang Cobra won't weight that much more. Performance target is the new 500 horsepower 7.0 liter Corvette ZO6 (a lighter car), and the Dodge Viper SRT-10.
Out back: A stiffened, toughened version of the GT's live axle with coil springs and an anti-roll bar.


2007 Shelby Mustang Cobra as in Motortrend Magazine
From Edumunds.com
See original article here
The 2006 SVT Cobra should satisfy even the most extreme performance enthusiasts.
What We Know: Ford will be adding the next-generation SVT Cobra to its lineup in 2006 on a limited production basis. The company plans on pulling out all the stops in constructing this Mustang-based monster, with numerous performance enhancements. The engine, which will be augmented by a supercharger, should produce just over 400-horsepower while yielding almost 430-lbs.-ft. of torque. Transmission is manual, of course. The suspension and brakes are said to improve upon the '03 Cobra, and the vehicle will be further tweaked with 18-inch chrome wheels.
2007 Mustang Cobra rendering made by
Doug Schramm
From the IMBOC (International Mustang Bullitt Owners Club) Forum:
See original post here
From an extremely reliable inside source at SVT (who is best friends with my sister's husband), this is supposedly the gospel of a lot of what we will see in the new Cobra. This car is already scheduled to debut at the Detroit Auto Show in January of 2006 with delivery available in mid (May/June) 2006 as a MY2007. Prototypes that are on the streets today are almost indistinguishable from other SN197's other than tires and exhaust note. There are a couple using unorthodox hood arrangements but these are supposedly not the cars with the drivetrains we will see. Here is what I was told will be the heart and soul of the next Cobra. Time will tell...

Motor: 5.4 Supercharged, 3 valve heads (with HUGE valves), forged internals similar to the 4.6 (Crank, rods, etc), modestly rated (under rated actually) ~465 HP/495 lb ft Torque, using a twin screw S/C similar to that on the Ford GT but pullied differently, hence the lower HP. This motor was supposedly made official (in house only) just in the last few days. It will NOT be rated the equal or even close HP-wise as the Ford GT exotic for exclusivity reasons. It will have more restrictive intake/exhaust systems than the Ford GT which is partly to blame for the lower performance numbers. Also, a cold air induction system will purportedly being looked at as an option but may be standard if it can get past the bean counters.

Transmissions: 6 speed manuals standard with a heavy duty 5 speed auto (the tranny used on the Ford Superduty but programmed/geared differently) as an option in late '07 or the '08 M/Y.

Suspensions: A re-engineered, heavy duty IRS will be an option with a modified 3 link/panhard bar-live axle setup as the standard rear axle. SVT will be going for the Road Race buyer as well as the straight line racer with both axles optional. However, the Axle options are not set in stone as of the moment but look highly likely to be approved. The Cobra will be lowered about 1.5" from a stock GT.

Bodywork: The retro theme will continue with a serious nod to the '67 Shelby. The fenders may be flared more than the standard '05 but that is not for certain as of now. The ducktail will be factory installed. Also, no convertible is planned for now but no reason was given other than concerns over chassis reliability due to the torque volume.

According to "John Doe" (he does not want to get 'relieved' of his assignment), only 3 of the Cobra protos built so far have the S/C'd 5.4 in them. There are actually 6 or 7 on the streets now, not all at the same time but there are similarly painted versions of different cars. There are also supposed to be three Protos with 6+ liter motors in them, 2 with blowers, one that is N/A but these will not be used in the next generation Cobra.

Supposedly, the 6+ Liter motors (he does not know the precise specs on them) are a Hurricane based engine with radical camming and a "first for Ford style of fuel delivery." I have no idea what he means by that and he would not elaborate to my sister either - apparently he was only repeating what he was told.

Tires: Alledgedly, the 5.4 S/C'd cars are running 315's on the rears, 275's on the fronts using 18" rims. Similar setups are on the other Protos. However, the 315's may only be optional with 295's being the standard fare.

Performance: The 5.4 S/C'd cars have been clocked in the very low 12's (12.10-12.25) in the quarter at nearly 120 mph and have been traction limited, according to "John". They are also supposedly able to pull over 1 G in handling.

Per "John", SVT is also adding enormous brakes and will be using an air cooled Intercooler, opting away from the water cooled version used previously due to reliability concerns (?). Other touches will possibly include some form of active/adjustable suspension as an option but he did not know much about it.

Supposedly, we should expect a price to be in the very high $30k range (base price - 6 speed, live axle, base tire/wheel combos) according to his sources in the know.

Also - prototype Mach 1's are also on the streets. These are supposedly running N/A'd 5.4's, tuned for 370hp with the 6 speed transmissions for now and debate still ongoing about which auto to use. None of the proto Mach's are running the Shaker hood to keep them cloaked to spying eyes. This car is supposed to appear for the '06 M/Y with some final tweaking to be set in stone by Jan/Feb 2005.

"John Doe" is considered to be an extremely reliable source. He said that Ford will rely heavily on already built/designed components rather than exotic pieces.

He also said that Ford is hoping to stymie the rumored F-body's comeback sales numbers with more powerful engines in the V6/GT Mustang in M/Y 2007 cars, perhaps as high as 20% increases in HP/Torque with 10-12% increases in fuel economy. If true, we could be seeing 320/325 HP GT's in 2007! Purportedly, GM is planning to use detuned LS2's in the F-bodies and Ford wants to head them off early with upgraded 3v motors.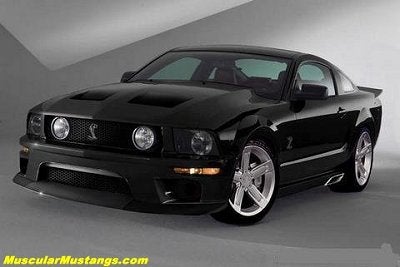 Mustang Cobra rendering made by

Doug Schramm

and modified by Todd aka. blk91gt


From Thecarconnection.com: See original article here
An SVT version of the Mustang will be unveiled at the upcoming New York Auto Show, (Unlike what the above post claimed, ovbivously it was not released in Detroit) said Thai-Tang, and though he wouldn't confirm production plans, sources told TCC it's a bit more than a year away.

Going forward, SVT intends to return to its roots, the Vietnamese-born executive explained during an exclusive interview. It will focus on building high-performance, limited-volume products with "substance" and value. But rather than putting a premium on off-the-line acceleration, future SVT models will likely strive to have broader appeal, much like the vehicles sold by European high-performance brands, such as BMW's M line. That means they'll have to handle and stop as well as they launch at a light

Meanwhile, Ford is likely to develop other high-performance options. It is expected to expand its ties to Shelby Motors, the tuner firm run by racing legend and longtime Ford consultant Carroll Shelby, as well as Saleen Motors, the California firm best known for its customized Mustang models


2007 Mustang Cobra rendering made by

Doug Schramm



From the Autoweek Forums: See original post here
Posted by 01cobravipretr:
I'm confused with some of the skeptics on this thread. Ford has some legitimate financial problems. That being said it would make absolutely no sense for Ford to spend the money that it did developing the Ford GT program with a 550hp engine. It was clear when Ford decided to build the supercharged 5.4 that it had plans on using it on other Ford vehicles--specifically the Lightning and Cobra. The 03 & 04 cobra motors are absolutely a work of art. There are plenty of Cobras across America running over 20psi on Kenne Belle blowers. The block is a superchargers dream. The new 5.4 with blower is without question headed for the Cobra. Anything less wouldn't make sense.

Posted by Bob sakamono:
I totally think that it is feasible for ford to put the GT engine in the cobra. Kar Craft is selling excess engines, so who knows how much this engine really costs them. Since they have just canned the hurricane engine, this leaves a smaller parts bin for the SVT team to pick and choose from. As they stated earlier they want to take the SVT brand up market to not only compete against the vette but that of the BMW M series. So, naturally the price is going to creep up, to step up into that type of class. However, in saying that a live axle is just not going to cut it in that class, no matter how much engineering you put into it, you will never overcome its disadvantages. I seriously think the Cobra is going to surprise everyone with its handling characteristics and powertrain.

Posted by fanofcars:
Ford shelved the lightning, killed the the hurricane engine program, and made the zepheyr look like a volvo/avalon. do you guys really think that ford will produce a 550hp mustang (i hope they do) ...they really been disappointing us lately with their lineup..Please ford don't disappoint us again ...


Image Courtesy of Amy Johnson
Source:
Edmunds.com
Yet another spy pic, what exactly are they hiding under that hood scoop?
Source:

Autoweek Magazine

Brenda Priddy & Co.



NOTE: All information and pictures on this page are copyrights of their respective owners. We do not "steal" or "leech" other party's property thus we would usually not post the above pictures, but since all of the above have been posted elsewhere many times before we are publishing it as we will also not be the last to post it either. All images have our logo attached to prevent people from using our bandwidth and not to claim the pictures are our property.