Ashley Force Interview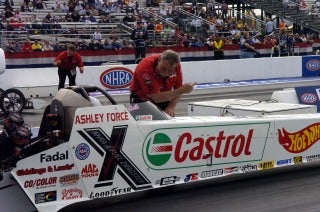 MuscularMustangs.Com: Who originally got you interested in cars and drag racing in the first place? Your dad?

Ashley Force: I grew up going to drag races on every family vacation so it became a big part of my life. My favorite drivers growing up were my dad, Gary Densham, Shirley Muldowney, Shelly Anderson... I always rooted for the girls especially!!

MM.Com: How closely did you follow your dad (and drag racing) as a child?

AF: When we were younger and in grade school we would always go to the close events like Pomona, Phoenix, Sonoma and Las Vegas, all the summer races and of course Indy. But during the school year, we'd watch every Sunday on T.V.

MM.Com: What made you decide to follow in your father's "tire-tracks"? With all of the bad accidents that have taken place, was it hard to be completely sold on the idea?

AF: When I got into high school, all I wanted to do was go racing. I'd wear race t-shirts to school, and I took auto shop and welding. My binder was covered with race pictures. I originally wanted to be a crew member because I thought it was amazing how they could all work together in such a short amount of time and put together a car that would go over 300 miles an hour. When I turned 16 my dad let me go to Frank Hawley's Drag Racing School and suddenly I was hooked on driving. I've definitely progressed slowing moving up the ranks and starting in Super Comp for a couple years and then moving to Top Alcohol Dragster for a few years. My family, team and I thought this was the safest path to take, because accidents can happen at any speed, but it's better to learn how to react quickly to what's going wrong at 150mph versus 330mph!

MM.Com: Your dad seems like a very nice guy. Being his daughter, what do you think of him?

AF: My dad truly is one of a kind! He is always energetic and going 100 mph every single day, which is probably the ONLY way someone would be able to manage 4 teams! He always makes every vacation or family dinner very funny and is always doing things to make my sisters and I laugh… like jumping into an 8 foot pile of snow in pajama's! (That was last Christmas in Lake Tahoe!) He also really loves drag racing. He loves the fans, the speed, the competition and mostly the team camaraderie, and he has taught me that when racing or any job I do isn't fun and if it's not something I wake up looking forward to doing, then it's not for me.

MM.Com: I've read about your dad feeling nervous about you drag racing. From what you saw, how nervous did he get?

AF: My dad is a nervous wreck when any of his drivers race because he knows that things can happen and they happen quickly. He's been in many flips and fires and has been ok, but I know that every time we go up and stage he's hoping we're prepared for anything and that he has prepared us. But I'm sure watching your little girl in the race car brings some added tension because he remembers me and my little sisters learning to walk, and now we're behind the wheel of some pretty fast race cars!

MM.Com: Getting into YOUR drag racing career; Give us your best description of what it feels like to blast down the quarter-mile with times in the low 5 second range.

AF: It's hard to explain the feeling but the closest comparison is a rollercoaster ride when it first takes off, just at 4 g's! Everything outside the cockpit is a blur accept the track. The parachutes hit harder than I ever expected and that actually was one of my biggest challenges when I moved up to TAD… I was in the chiropractor's for months! But you'd definitely rather them hit than not.

MM.Com: We have recently seen a large surge of women in racing; both in the NHRA and other motorsports. Tell us how you feel about being part of such a surge.

AF: I'm really excited to be part of the many women involved in racing. Before I was born, my mom used to back up my dad, pack the parachutes and mix the fuel, and there was a handful of women driving then, including of course Shirley Muldowney who really carved the way. But I do believe that people are more accepting of women racing today than back then. Many of the fans are families with young children and there are a lot of young girls at the ropes, and I'm glad there are so many women who are racing for well known teams and winning, and really showing that it's not just a man's sport, but rather a sport for people who love speed… and nitro!

MM.Com: What did it feel like to get your first win down in Rusk, Texas?

AF: Our win in Rusk, TX was a blast. It was just on the brink of sprinkling when I went up for the final and after we won it rained in the winner's circle. Since it was a divisional and there was another NHRA event going on somewhere else, no one other than my team and my publicist were there. It was sad since my family wasn't there for my first win, but it was good for my team because it really brought us together and we became really close. Afterwards we all went to Chubby's for dinner and told the waiter we had just won!

MM.Com: We know you've been through a full NHRA season and we were interested to hear about the praise you and your crew gave Holly Clark's husband's (Red) work at Cherokee County Motorsports Park. Including that track, which track on the NHRA circuit is your favorite? Which is your least favorite

AF: Cherokee County Motor Sports Park is a great track. There is always a great turnout of fans, the track's always prepared well, and the people that run the track are some of the friendliest track officials I've ever met! Other favorites of mine are Las Vegas, NV, because it's a really nice facility with these huge stadium seats and we get to race at night, Chicago because the conditions and the track make for some really fast racing, and Sonoma because of the beautiful scenery. My least favorite tracks are probably St. Louis Bristol, Denver and Memphis… because the TAD category doesn't race there!

MM.Com: How do you get along with the other two guys (Robert Hight, Eric Medlen) on the team? Do you speak to each other often?

AF: I've known both of them now for about 10 years and they are really great guys. Eric is always entertaining and he is hilarious. He even got up on the stage at a race once and sang! He's really serious though when it comes to his team and race car and has helped me a lot when I've had questions about the cars, especially now that I've been testing in Funny Car. Robert is probably one of the nicest people you will ever meet. I'm a little biased since he's my brother in law, but he would do anything for anyone and he's very humble and focused. I actually spend a lot of time with both of them because our whole team is very close. Even on the off season when we're not racing, we're all having BBQ's together!

MM.Com: In your opinion, who is the toughest competitor in Alcohol Dragster?

AF: That's so hard to say because there are so many great racers in my category. Every team has their strengths depending on the weather, and humidity and track, but I know personally that I'm pretty sure I've been beat by Randy Meyer the most in the last two years, and I always tell him I owe him one but never seem to catch up. Steve Torrence is new this year and he is doing awesome, along with my buddy Erin Olivarez, who took me out in the final in Gainesville. Shields and Federlin have also been quite a pain in my butt in eliminations, but both are really nice guys, and fan favorites like Gene Snow whose a legend in drag racing and Hillary Will, whom I got to talk to in Seattle and is very nice. I've been beat by just about everyone so every time I go up to run, no matter who I'm next to, I know I have to be ready from the time I react, till I go through the lights.

MM.Com: With the tough competition this year, both you and your dad have fallen back in the points. Can you make a comeback?

AF: Every race we go to wanting to win, but sometimes you get in a rut and you just have to give it time. We've struggled this year with the fuel change to 98% and some random problems we've had with our car. We might have been hitting quicker elapse times last year, but I absolutely believe I learned how to be a better driver this year. When the car goes from A to B you might win, but you really don't do anything but step on the pedal and go. It's when your cars dropping cylinders on the launch, smoking the tires, and getting sideways that you really get a lesson in driving, so I don't mind the struggle. Dad's struggled a little too but I believe it just pumps him up to try harder, and more than anything I think he's proud of his rookie drivers Eric and Robert, and how great they are doing in funny car.

MM.Com: Are you close friends with any of the competition?

AF: I'm really good friends with Erin Olivarez with the Armored Coatings team, even though I'll never forgive him for taking me out in the Gainesville final! I also adore Randy Meyer's two little girls who are also getting into racing by doing Jr. Dragsters. Steve Federlin and his wife are really sweet, and Gene Snow is always so nice to me. Also, I recently got to talk a little with Hillary Will for the first time. She's now living not too far from me so hopefully we can hang out when we're not racing!

MM.Com: I've heard several different figures on how much it costs to race each weekend. Can you give us an estimate of how much it costs you?

AF: It depends on how many passes you make and how much you brake! It's somewhere around $1,000 a pass, but you also have to factor in travel and rooms for your team.

MM.Com: We have seen some scary stuff in drag racing. What would you consider your scariest experience in the dragster?

AF: Last year in Belle Rose, LA, I was in the semi's and when I launched it went right up in smoke so I got off it. Then the guy in the other lane broke, so I got back on but wasn't quite straight and pedaled it all over the track all the way to the end and won. My team said they could read Mattel from the starting line! I was pretty upset at the end of the track but my team all jumped out of the excursion yelling and hugging me. We ended up winning the race and clenching the Div. 4 championship that day and I didn't hit anything, so it was a good day.

MM.Com: Who do you think contributed the most to your drag racing career?

AF: My father and his team definitely contributed everything to me getting into racing. His crew chief Bernie Fedderly and one of his head mechanics, Dean Antonelli got me set up with my team and fire suit, safety gear, and everything that I needed to race. My dad found a sponsorship with Mattel, Hot Wheels and Castrol for my car, and funded me along the way. Also, running for Jerry Darien has been a wonderful way to learn the TAD category, because he's a good teacher, and is great at working with rookie drivers. Also, starting in Super Comp, Rob Slavinski, a longtime Castrol driver and friend of my dad's, helped me get my start in racing on the circuit. And finally attending Racing School taught by Frank Hawley and Fast Jack Beckman was where I first got in a race car and went down the track.

MM.Com: As of now, what do you believe is your biggest accomplishment in drag racing?

AF: Winning Indy was a big moment for me because it was my first national event win and it was an all female final with Shelly Howard, so it was very exciting for everyone because no matter who won, a woman was definitely taking home a trophy that day. Also, winning Pomona alongside my dad was unforgettable. Mitch Myers was running 5.11's that day and I was definitely the underdog in the final put we managed to pull it off, and 3 pairs later, my dad won!

MM.Com: Since you are fairly well-known, do fans ever give you a hard time when you are in public or do they stay away for the most part?

AF: My dad gets noticed quite often at random places, but I don't get noticed unless I'm at a drag race, and even then some people get a little confused as to who I am since there is usually a handful of girls in our pit! (My sisters, my publicist, and crew chiefs wife… it's all about girl power!) Last year in Great Bend, KS, at a divisional, my team and I went to Applebee's after the race and across the restaurant this family with little kids kept looking over. At first I thought maybe I had a napkin stuck to my arm or something but then I saw they were wearing race t-shirts so I figured they were at the race that day.

MM.Com: Do you watch any other form of racing (Formula 1, Nascar, Indy Car, etc.)?

AF: Truthfully, I really only watch Drag Racing, and I usually miss when that's on T.V. because we're always on the road. I'll watch NASCAR if it's on and Indy car, and I've been to a couple of local Motor Cross events but that's about it.

MM.Com: Getting off the subject of drag racing for a bit and moving on to what the Mustang enthusiasts that visit our site REALLY want to know. On a scale from 1-10, how big of a Mustang fan/fanatic would you consider yourself?

AF: I love Mustang's, especially the '05's and my sister has a white '02 convertible Mustang that we like to drive to the beach in. Back in high school my dad bought a '65 red Mustang which is awesome and I really wanted to work on it in auto, but dad wouldn't let me!

MM.Com: Have you or do you currently owned a Mustang?

AF: I almost got a Mustang in high school but I decided on a truck so I could take my two dogs around town.

MM.Com: Lastly, What do you think of the new Mustang design and which design that you've seen over all of Mustang history do you find to be the best?

AF: I love the '05's because they remind me a race car, and anything to do with drag cars I love!

MM.Com: One last question about your future in the John Force Racing team that everyone wants to have a 100% solid answer to. When your dad retires, will you take over his spot? Or will there be plans to add on another car to the Funny Car team?

AF: He doesn't plan to retire anytime soon, and I definitely plan to race him, and maybe mess with him a little on the tree! I will stay in TAD for 2006 because I really enjoy this category and it is still extremely fast at 275 mph, and a challenge in itself. I will also continue to test my dad's funny car on test days after events. I've only gone to 300 feet in his car and it was quite a ride, but I'm excited to keep going a little further down the track and get my license and maybe after that I'll be ready to move up with the big boys… and girls!

MM.Com: Any "thanks you's" or leftover comment you'd like to add?

AF: I just want to thank Holly Clark for the mustang drawing she brought to me a few months ago. I actually have it framed in our shop and everyone who sees it stops to admire it. She's very proud of her father as I am of mine, and it's cool to meet other children of drag racing who are taking over the family ropes and continuing this wonderful sport!