2005 SVT Sport Trac Adrenalin
To view more full size images of this vehicle goto the Sport Trac Adrenalin Gallery


Sport Trac Adrenalin will rush into an all-new niche in 2007: the high-performance sport utility truck
Advanced powertrain features: supercharged, 390-hp V-8 paired with SVT's first six-speed automatic and all-wheel-drive
Four-wheel independent suspension for balanced dynamics
Adrenalin delivers confident driving character and advanced safety features, including Ford's industry-leading AdvanceTrac® with Roll Stability Control
Ford jolts the performance world with a shot of Adrenalin - the Ford Sport Trac Adrenalin teaser is the world's first high-performance sport-utility truck (SUT).



Adrenalin showcases Ford's plans to produce in 2007 the first sport truck offering the combination of uncompromised utility, four-passenger capability and true performance. Along with the Ford Shelby Cobra GT500 - which will go on sale in 2006 - Adrenalin will continue SVT's product momentum that has been growing since the introduction of the acclaimed Ford GT super car in 2004.

"We're looking to take Ford performance to an entirely new market segment with the Sport Trac Adrenalin," says Steve Lyons, vice president, Ford Motor Company and president, Ford Division. "Adrenalin is designed to offer a unique combination of performance and functionality never before offered in the 'go-fast' market."

Adrenalin marries the best attributes of two breakthrough Ford vehicles - Ford SVT F-150 Lightning and Ford Explorer Sport Trac - to answer enthusiast demands for performance and multi-functional utility. In addition, it offers class-leading technologies, including all-wheel drive, a six-speed automatic transmission and Ford's industry-leading AdvanceTrac® with Roll Stability Control™.

"We have a very clear view of what we want to do to retain Ford's leadership in performance vehicles," says Phil Martens group vice president, Product Creation. "This includes looking beyond traditional SVT products for opportunities with unique performance attributes, such as all-wheel-drive."

With a supercharged, 390-horsepower V-8, the first six-speed automatic ever featured in an SVT vehicle and an SVT-tuned fully independent suspension, Adrenalin promises the acceleration, agility and utility that made the legendary Ford SVT F-150 Lightning the best-selling, longest-running performance truck ever.

Adrenalin also builds on the multi-functional personality of the original Explorer Sport Trac, which created the SUT market when it debuted in 2000. It offers four full-sized doors, four bolstered bucket seats, and a four-foot composite box with 30 percent more cargo capacity than the current Explorer Sport Trac.

"New SVT programs will draw heavily on our experiences developing the Ford GT, as well as from our racing experience," says Martens. "By bringing SVT into the mainstream of product development, SVT products like the Adrenalin will benefit from parallel development with the conventional model plan."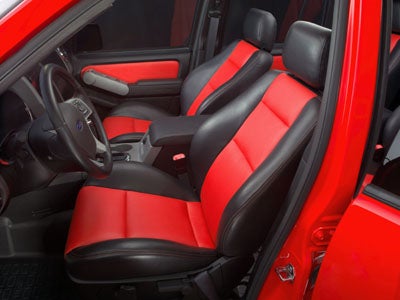 Design builds on the performance-focused Ford Sport Trac concept
The Sport Trac Adrenalin follows the Ford Explorer Sport Trac concept, which debuted at the 2005 North American International Auto Show. In fact, the Explorer Sport Trac concept's "slammed" appearance and large wheels and tires foreshadowed what SVT had in mind with the high-performance Adrenalin.

"We really wanted to draw attention to the increased power of the Explorer Sport Trac," says Chelsia Lau, Explorer Sport Trac chief designer. "The result is a truck that's bold, aggressive and speaks loudly."

Adrenalin exterior features bold red paint that instantly communicates its performance mission, while discreet SVT badging on the wheels will catch the eye of discerning enthusiasts. Stylized front and rear fascias, an aggressive "black chrome" grille and grille surround with matching headlamp bezels and SVT signature fog lamps helped communicate the supercharged performance latent in the Adrenalin.

"Evolving the design into the Sport Trac Adrenalin was a natural progression," says Doug Gaffka, design director, Ford SVT vehicles. "Adrenalin further explores the high-performance possibilities of the Sport Trac concept, using the design vocabulary of SVT."

Inside, four comfortable bucket seats feature supportive thigh and chest bolstering. Unique red leather seat inserts match red leather interior door trim panels, adding to the Adrenalin's sporting flair. The instrument panel houses easy-to-read, white-faced instruments, an SVT design hallmark. A navigation system is also included, a first for an SVT-badged vehicle.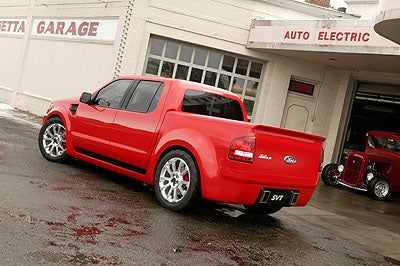 Power for the track, power to tow
The Sport Trac Adrenalin delivers searing acceleration with its 4.6-liter, 32-valve DOHC V-8 powertrain. A Roots-type supercharger and water-to-air intercooler boost output to a whopping 390 horsepower and 390 pounds-feet of torque.

Making the most of the power is a six-speed automatic transmission - the first for any SVT vehicle. The six-speed automatic has proven capable of heavy-duty use, contributing to the projected 6000-pound towing capacities of the Sport Trac Adrenalin.

Adrenalin is hundreds of pounds lighter than other sport trucks built off full-size pickups. The resulting power-to-weight ratio ensures impressive acceleration under full throttle, and good fuel economy during more leisurely driving.

Addressing owners' requests, the new sport utility truck expands the multi-purpose flexibility current Explorer Sport Trac owners appreciate. More interior room is provided by stretching the current Sport Trac exterior dimensions by nearly five inches in length and two inches in width. More cargo space - 30 percent more, in fact - is created by the wider bed and taller bed rails, and the addition of a pair of lockable compartments integrated into the bed.



SVT-tuned independent suspension offers balanced, agile dynamics
Sport Trac Adrenalin also features superior driving dynamics. With a 113-inch wheelbase, and track just over 60 inches, the Adrenalin offers a more compact footprint than competitors' sport trucks. Combined with a lighter curb weight, the Adrenalin promises to improve on the nimble, composed dynamics that made the SVT F-150 Lightning famous in enthusiast ranks.

"Ford SVT has long been renowned for its 'chassis wizards' who deliver balanced, agile handling, even in the full-size F-150 pickup," says Hau Thai-Tang, director, Advanced Product Creation and SVT. "Considering its smaller dimensions, lighter weight and fully-independent suspension, the Sport Trac Adrenalin might rival the handling of some performance cars."

Adrenalin features short- and long-arm front suspension, and a trailing-blade independent rear suspension (IRS). SVT-tuned shock and spring rates, as well as upgraded front and rear stabilizer bars, are designed to provide more aggressive, more controlled driving dynamics. The independent rear suspension is tuned for ultimate control and driver feedback.

Oversized brakes at all four corners help handle the added velocity made possible by 390 horsepower. Huge, split-five-spoke 21-inch wheels - wrapped in 295/45R21 tires - allow ample airflow to keep the big binders cool during rigorous use.

Spacious seating for four, all-wheel drive and AdvanceTrac® with Roll Stability Control™
Sport Trac Adrenalin also addresses the requests of SVT Lightning enthusiasts for more seating and the option of all-wheel drive.

For the best handling and power-to-weight ratio, Lightning pickups have always been regular-cab, short-bed variants of the F-150, limiting comfortable seating capacity to two people - or three in a pinch. In addition, Lightnings have solely been equipped with rear-wheel drive, making maximum acceleration a balancing act between full throttle and excessive - if entertaining - wheelspin.

The Adrenalin evolves the fun-to-drive character of the Lightning, while addressing these requests. It features four full-sized doors, providing easy access to comfortable seating for four adults. The drivetrain is designed to accommodate rear-wheel-drive or all-wheel-drive configurations - another first for an SVT-engineered vehicle.

"In addition to providing sure footing on slick surfaces, there's a performance advantage to all-wheel drive," says Jay O'Connell, SVT chief vehicle engineer. "A longstanding problem with performance trucks was their inability to 'hook up' from a standing start without excessive wheelspin. This AWD system puts power down through all four tires, helping Adrenalin launch with impressive authority." Driving enthusiasts weaned on rear-wheel drive performance vehicles need not fear that all the "fun" of rear drive has been dialed out. The Sport Trac Adrenalin AWD system exhibits a 60/40-torque split biased to the rear, so as weight is transferred to the back set of wheels during takeoff, engine torque is delivered right where it's needed.

In addition, the all-wheel-drive system is paired with Ford's industry-exclusive safety system, AdvanceTrac® with Roll Stability Control™. Combined, these systems provide an added measure of safety and control during slippery conditions or emergency maneuvers. As such, the Sport Trac Adrenalin offers safety and protection to match its impressive performance.

Source: Ford Motor Company