Shelby Cobra GT500 Powertrain

Just as the big-block GT500 from 1968 was a step up from the GT350, the Ford Shelby Cobra GT500 show car's 450-plus-horsepower, 5.4-liter V-8 is a step up from the 4.6-liter V-8 used in the previous-generation SVT Mustang Cobra.

In fact, the 5.4-liter, 32-valve, supercharged V-8 configuration is similar to that of the 2005 Ford GT supercar, offering the right combination of classic Ford big-block power and modern technology. Using the Ford GT as a blueprint, SVT has given the GT500 more total horsepower than any factory Mustang in the muscle car's celebrated 41-year history.

"We are applying our Ford GT engine experience to the GT500 to bring over 450 horsepower to a much bigger enthusiast audience," says Jay O'Connell, SVT chief vehicle engineer. "It really delivers on the essence of two great names in Ford performance - a mix of SVT's modern-day experience with supercharging and the Shelby GT500's heritage of big-block power."

The result: More than 450 horsepower and 450 foot-pounds of torque.

Engine upgraded for supercharger's power increase

With the stout cast-iron, 5.4-liter Triton V-8 engine as a starting point, the Shelby Cobra GT500 adds a screw-type 8.5-pounds-per-square-inch supercharger and water-to-air intercooler.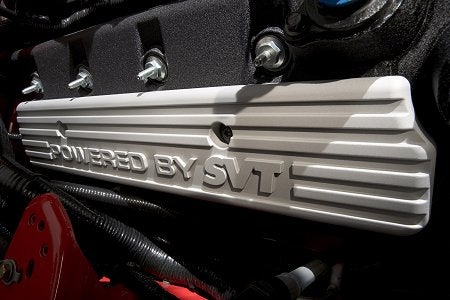 But, adding forced-induction power is more than just a bolt-on proposition. The engine's internals need upgrading for the sake of strength and durability. To that end, the Shelby Cobra GT500's powerplant benefits from unique connecting rods and forged pistons to handle the extra strain on the lower end of the block.

An all-new intake manifold helps to efficiently channel the supercharged fuel-air mixture into the cylinders. The low-profile manifold design also effectively packages the entire induction system under the GT500's special air-extraction hood. Fuel comes from a dual-bore electronic throttle body borrowed from Ford's 6.8-liter truck engine program. To manage heat produced by more than 450 horses, a larger radiator and increased-capacity cooling system also are installed.

Aluminum, high-performance Ford GT heads tout "Powered by SVT"

While supercharging is a key element in the Shelby Cobra GT500's ability to generate so much horsepower, another major contributing component is the design of the cast-aluminum, four-valve cylinder heads sourced from the Ford GT supercar.

Developed specifically for supercharged applications, these high-performance heads use high-flow ports and specially calibrated dual-overhead camshafts to deliver optimum engine "breathing" along with surprisingly good fuel efficiency and emissions. Also borrowed for use in the GT500 are the Ford GT's proven piston rings and connecting rod bearings.

To enthusiasts, the real beauty of any performance car rests with its engine. That idea certainly wasn't lost on Carroll Shelby because Mustangs that bore his name have traditionally brought his unique sense of style and personality right into the engine compartment. One Shelby signature feature - special finned valve covers embossed with "COBRA Powered By Ford" - soon became the envy of so many Ford V-8 owners that they quickly became one of the best-selling dress-up accessories on the market.

With that in mind, the GT500 is equipped with special "Powered by SVT" finned cam covers to hint at the beauty of 450 horses lurking in the engine below. Mated to the Ford GT four-valve cylinder heads are unique exhaust manifolds that help to better scavenge spent gases out of the cylinders and into the custom-tuned mufflers and dual-exhaust system.

Strong transmission for powerful engine

Few transmissions exist in the marketplace today that can handle the torque loads generated by the supercharged GT500, so SVT engineers are opting to stick with the proven heavy duty performance of the T-56 six-speed manual gearbox. The T-56 first appeared in the 2000 SVT Mustang Cobra R, powered by a naturally aspirated 5.4-liter V-8 with 385 horsepower, and later in the supercharged 2003 SVT Mustang Cobra whose DOHC 4.6-liter produced 390 horses. For the Shelby Cobra GT500 show car, the T-56 will be geared to make the most out of the supercharged 5.4-liter's broad power band.

Source: Ford Motor Company