Camp Steeda / SVTOA Sebring Sensation 2005

Well the folks at Steeda Autosports and the SVTOA did it again. They brought together a huge gathering of Ford enthusiasts with their prized vehicles for one awesome event. In total there were over 120 Mustangs, and other Ford cars and trucks that ran the 3.7 mile long Sebring road course race track throughout the weekend.



Included in the event was a Ford only car show, vendor midway, road course racing classroom instruction, and a number of other "social" events to round out the weekend. Included in the agenda was a banquet held on Saturday night hosted by Mustang and Ford Trader magazine. After a hearty dinner Ford SVT Cheif Engineer Jay O'Connell made a presentation to the crowd which included his impressive history of automotive design and competition accomplishments. After Jay's speech there were a record number of items raffled and auctioned off including rides in a Ford GT, and tons of aftermarket parts and accessories donated by Steeda. All procedes went to the Big Brothers / Big Sisters charity.



Don't be fooled though. As it should be the cars were the stars of this event both on and off the track. Ford took this opportunity to showcase two of their awesome vehicles. The bright yellow Ford GT which was also used to give rides to enthusiast for charity, and a brand spanking new Shelby Cobra GT500 prototype which sucked everybody who spotted it in for a closer look.



Wanna take a ride on the tarmac? Well for drivers of all skill levels the SVTOA brought out instructors to bring everyone up to speed (no pun intended) on the basics and not so basics of road course racing. This included classroom instruction and even an on track ride along for novices.



Wanna take a FAST ride on the tarmac? Professional race drivers Lance Stewart and Charles Espenlaub were also on hand to give SVTOA members rides on the track in the #20 Steeda Q400R, '95 Steeda Cobra R (the first production Mustang to win a professional road race in 20 years), and the '93 Steeda Cobra R (the Cobra used by Ford Engineering and Steeda to develop brakes for the 1993 Cobra R Program). In addition to that Steeda President Dario Orlando took some enthusiast for a ride in the '01 Steeda Q 400 development Mustang, equipped with the famed Steeda 5 Link rear suspension and a power plant producing over 500 rear wheel horsepower, the Q 400 turned lap times comparable to purpose built race cars. All this in a Mustang with air and a stereo!



Steeda was also on hand to provide participants with replacement parts and services by their technical staff under the direction of Chief Racing Engineer Steve Chichisola. Steeda also brought out their '05 Screamin' Yellow and Torch Red Mustangs for some track testing and so the spectators could drool all over them...LOL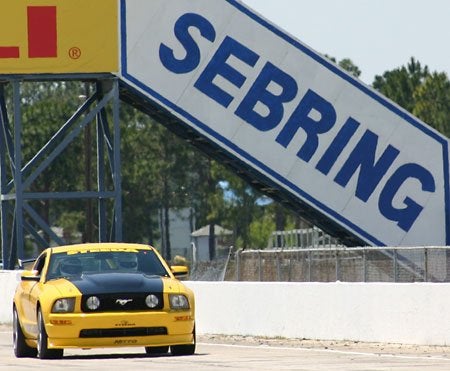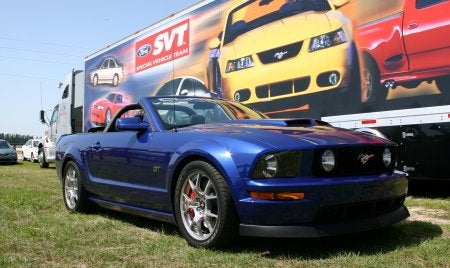 Images and information courtesy of Steeda Autosports