2010, 2011, and 2012 Ford Mustang Rumors
I'm sure as you remember before the 2007 Shelby GT500 was unveiled we created a page of '07 Cobra Rumors that gave you a sneek peak into whats to come for that car. Well here we are again with tons of rumors flying around about the possibility of an update for the 2010 Mustang, and a total redesign for 2012. Here's all the info that we could find. This page will be updated as information become available.

9/10/08 - It's getting close! Ford Motor Company published five new images of the 2010 Ford Mustang. Although the images are just small details of the new 'Stang they definitely give you a better look at what is coming. Full size versions can be seen here: 2010 Mustang Pictures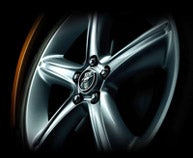 9/10/08 - Could this be the next incarnation of the Shelby GT500? According to Brenda Priddy the Cobra emblem on the steering wheel could easily be seen even though it was taped over. Full size pics available at Left Lane News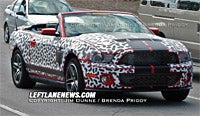 6/04/08 - Autoblog has gotten ahold of more 2010 Ford Mustang spy shots. This time they even got interior pictures and a video! Go check them out! (interior pictures) - (exterior pictures and video)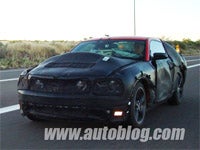 1/10/08 - Ford has some big changes in store for the 2010 Mustang. According to Motortrend Magazine those changes include a 5.0L engine based off the current 4.6L and a twin turbo Ecoboost V6. More information can be had here: Changes to the Mustang for 2010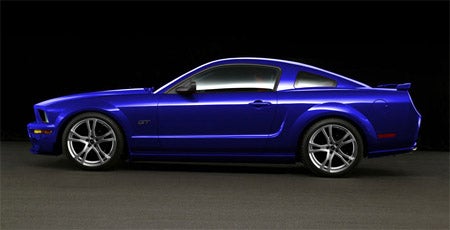 2010 Mustang GT Courtesy of MotorTrend


1/10/08 - Yet again more spy shots from Brenda Priddy. This time there are some telling features visible such as a small peak at the headlights and what are likely to be the production wheels. More 2010 Mustang GT Spy Shots

1/07/08 - Brenda Priddy has taken even more pictures of the 2010 Mustang. This time it's believed to be the Mustang GT because of it's due exhaust and '07 GT500 wheels. 2010 Mustang GT Spy Shots

8/07/07 - Looks like Brenda Priddy has gotten ahold of a 2010 Ford Mustang spy shot. I know we've been saying that it would be a 2009 Mustang but according to Brenda it's expected to start production in '09 while being sold as a 2010 model. Word is that Ford may also offer an optional 5.7 liter V8 engine! 2010 Mustang Spy Shot

3/18/07 - The Times of Malta today released information that proves there will be a retractable hardtop convertible in the Mustang's future. You can read more about the 2009 Retractable Hardtop Mustang here.


2009 Ford Mustang with retractable hardtop courtesy of The Malta Times


1/18/07 - Winding Road Magazine got their hands on photos (courtesy of KGP Photography) of what looks to be a 2009 Mustang test mule. Although the front end of the test mule is highly camouflaged you can easily see distinct body lines that are an exact match to the Giugiaro Mustang Concept unveiled last November.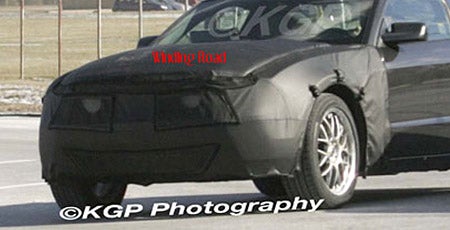 2009 Test Mule Courtesy of Winding Road Magazine


12/13/06 - NOTE: This rumor turned out to be a mistake on Autoweek's part. Ford has no plans to make a four door Mustang. You can read about it here.
Autoweek today unveiled a huge shocker to the Mustang world when they announced the supposed plans by Ford Motor Company to add wagon and sedan versions to the Mustang lineup when it's redesigned. Not only that but they claim the redesign is coming a year sooner than expected in 2011.


11/29/06 - As you probably know by now Ford Motor Company unveiled a stunning new concept Mustang dubbed the Giugiaro Mustang, named after the Italian coachbuilder Giugiaro S.P.A. who designed it. Word is that Ford may be using many styling cues from the Giugiaro Mustang when they redesign the Mustang in 2012. Is it possible that when looking at the Giugiaro Mustang Concept that we may be looking into the future? Only time will tell.


Giugiaro Mustang Concept


11/03/06 - According to a recent article by Left Lane News, Steve Saleen spilled the beans about what Ford is planning for 2009. "Saleen said he recently spoke with Ford CEO Alan Mulally, who said the 2009 GT Mustang will get a bump from 300 hp up to 350 horsepower. Mulally also said the GT500 would get get a modest 15 horsepower increase over its already impressive 500 horsepower. The 2009 Mustang will not be a complete redesign, but rather a facelift of the existing model. The overall body shape is expected to stay the same, but the front and rear should see extensive reworking to keep things fresh." - Thanks to Justin for the tip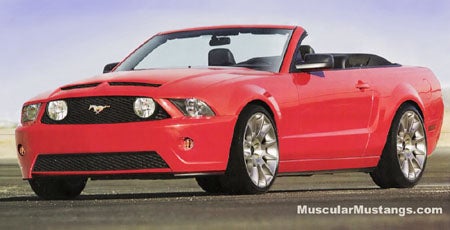 2009 Mustang - Image Source:
Road and Track Magazine
2009 Mustang - Image Source:

Road and Track Magazine


The image above is courtesy of the November issue of Road and Track magazine. It's a rendering of what they believe the updated 2009 Mustang will look like. According to R&T the '09 is likely to have a flatter hood and more aggressive front end. "This approach can be likened to Chevy's take on the Camaro, which has the basic proportions of the original, but with sheet metal that has a decidedly contemporary flair."

They go on to say that the base model 2009 Mustang will likely have a smaller but more powerful 3.5L engine. Probably the same engine that we unveiled to you here last November, but unlike the one Ford told us about this one is said to have somewhere between 260 to 280 horsepower. That would make it at least as powerful as the 99-04 Mustang GT's V8 engine, and 35 to 55 horsepower more powerful than the beloved 5.0L Fox Body GT.

But don't blink yet! Even more amazing is what they had to say about the 2009 Mustang GT's engine. Word is that Ford will bump the displacement of the 4.6L that is in the current Mustang, likely to 5.0L, which will result in more horsepower. How much more horsepower? Well R&T says it'll "probably be between 350-400bhp."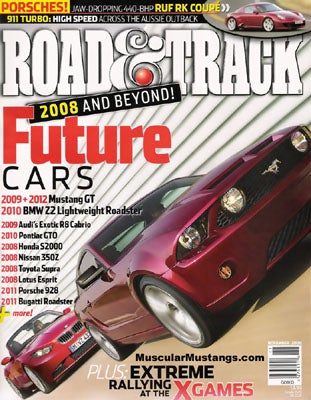 2009 Mustang on the cover of
Road and Track Magazine
2009 Mustang Drawing - Source unknown


We really don't know where the above image originated. It's been circulating on just about every automotive forum and blog for the past year. All we do know is that this drawing is what most people currently relate to what the 2009 Mustang will look like.


2012 Mustang - Image Source:

Road and Track Magazine


Above is another rendering from R&T Magazine's of what they believe the 2012 Ford Mustang may look like. In the article they say to look for a "much more radical Mustang" for 2012. "Again the silhouette will be familiar, the tradional long nose and short rear deck will convey the pony car positioning, but the sheet metal will be very angular and swoopy. They even go on to say that 2012 may even see the return of the hatchback, something that the Mustang has had since 1993. As for the above rendering we personally feel it looks too much like the upcoming Camaro, and have a hard time believing Ford would produce a car so closely resembling something their competitors are about to make.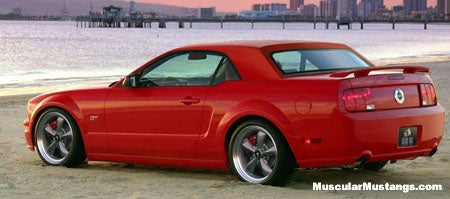 Mustang Convertible Hardtop - Image Source:

Sono81 from CarSpyShots.net


Something else that has been speculated about in the past year is the possibility of a retractable hardtop version of the Mustang Convertible. The problem with this rumor is that it's said to be slated for the 2008 Mustang, but we'd be much less surprised if that Ford decided to add these feature during the facelift of 2009 instead. The image above was photoshopped by Carspyshots.net community member Soho81, and although it's on a 2006 Mustang Convertible it gives you a good idea of what me might be install for in 2008, or 2009.

Below are snippets of rumors, speculation, and information about the 2009 Mustang from various forums, websites, and blogs.

From TheMustangNews.com
The 4-valve version of the 4.6 and 5.4 are also likely to return in either supercharged or naturally aspirated forms for higher performance models. A 3-valve 5.4 liter V8 is also a possibility as it is less costly than a supercharged engine with similar power.

Will a six speed transmission ever become standard in the 2009 Mustang? Perhaps, but it is more likely to be a six-speed automatic that is available at first. Unless the competition warrants otherwise, our bet is on the 5-speed manual to stick around except on hi performance models like the Cobra. A true manu-matic sequential gearbox with shift paddles on the wheel is an expensive proposition that might be in the cards for the upper line Cobras, but we aren't holding our breath.

From TheMustangSource.com Forums
Back on target I swore Ford made an official statement delaying the facelift to 2010. The current car is great so in my opinion the later the delay the better. All the mustangs are stunning. The only thing I don't like are those **** air extracters on the Shelby. They are God awful. Thank God for the stripes as they take your attention off the ugly extracters.

Actually the above is somewhat true, but it wasn't Ford that stated the 2009 Mustang would be pushed back to 2010 actually it was Autoweek Magazine who claimed that here.

From StangsUnleashed.com
Sources familiar with Ford's future engine product development program told StangsUnleashed that Ford is working on a 4.6L "niche" engine that could possibly appear in a special high-performance version of the 2008 or 2009 Ford Mustang. A niche engine is often referred to as a limited production high performance engine, such as those found in SVT Cobra Mustangs or Mustang feature cars like the Mach1.



NOTE: All information and pictures on this page are copyright of their respective owners. We do not "steal" or "leech" other party's property thus we would usually not post the above pictures, but since all of the above have been posted elsewhere many times before we are publishing it as we will also not be the last to post it either. All images are hosted by us as to not leech other website's bandwidth and for that reason we also have our logo on the said images to prevent others from using our bandwidth. We do not claim these images as our own.