Mustang Retractable Hardtop Convertible

Update: Autoblog has contacted Ford Motor Company about this and they claim that they are not involved with this project. "The automaker added that it's always investigating new features and special editions to help feed the Mustang enthusiast desire for more and to maintain its pony car segment leadership" I guess only time will tell whether there will be a retractable hardtop Mustang, and whether this car is the prototype for it.

For quite some time now there has been rumor and speculation that Ford Motor Company is planning to add an optional retractable hardtop to it's Ford Mustang Convertible lineup in 2009. Well it is now sounding like these rumors are very reliable as today The Times of Malta, a daily newspaper in Malta which is a Southern European country, has unveiled that Ford is contracting a Maltese company to design and build the retractable hardtop mechanisms.

The article which appeared in the Sunday edition of the Malta Times, claims that "Detroit Veteran" Peter Muscat who designed similar mechanisms for Ford in the 80's has built five production ready Ford Mustang retractable hardtop convertibles which are being exported to the United States for what we believe to be final testing and approval. Peter Muscat, of Muscat Technology in Bulebel, has stated that they already have 100 retractable hardtops on order and expect to build 500 over the course of six years.

"This is all the work of the Muscat Technology team here in Malta, who designed, engineered, prototyped and developed it here in Malta, including the miniature computer that controls the mechanism," said Muscat

According to the article the retractable hardtop has been specifically designed to take up the least amount of trunk space as possible, while not altering the already tight spaces in the ponycar's interior. The retractable top, which uses the coupe's glass rear window, slides into a small compartment behind the rear seats and is then automatically covered by a resin top. The roof is manually released with a handle, and the rest is all automatic. The whole operation takes less than 30 seconds, but Muscat is planning an upgrade which will allow it to retract in 23 seconds.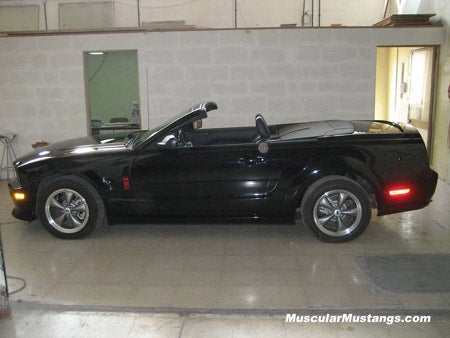 Retractable hardtop in the up position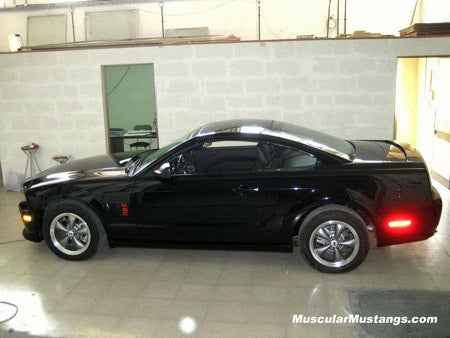 Retractable hardtop in the down position




Related:
Muscat Technologies
More Retractable Hardtop Mustang Pictures
Retractable Hardtop Mustang Video
2009 Mustang Rumors
2009 Mustang to get convertible hardtop?