2008 Bullitt Mustang Rumors
2008 Bullitt Mustang Rendering


Update: 11/06/2007 - It's finally here! Although we were told to expect the Bullitt unveiling on the 13th I guess Ford decided to surprise us today as they offically unveiled the 2008 Bullitt Mustang! More information can be seen on the 2008 Bullit Mustang page.



Update: 10/31/2007 - Ford released a little tidbit of information today which is that they're planning on unveiling the Bullitt at the 2008 Los Angeles International Auto Show on November 13th. There wasn't much more information given but they did release a rendering of the Bullitt (seen below) and this quote: "Blending the best Mustang ever with the latest Ford Racing technology, this modern classic lives up to the magic of the movie "Bullitt" by delivering a new-generation Mustang Bullitt with the perfect balance of power, performance and a look of quiet intensity. Bullitt screams into dealerships early next year."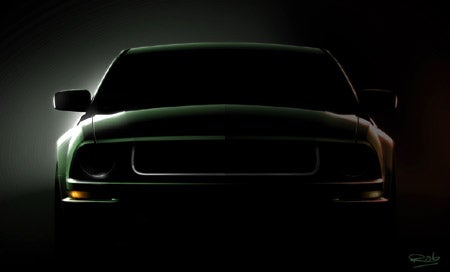 Update: 9/20/2007 - A member of the Stangnet forums, 4bangstangvert, took these pictures of what could be a 2008 Bullitt prototype. However there were no emblems or extra scoops so it's impossible to say for sure.


Ever since the 2001 Bullitt Mustang was debutted enthusiasts have speculated about the possibility of yet another Bullitt being introduced. Those rumors are still going strong but this time they're actually true!

Engine/Drivetrain: The original word on the 2008 Bullitt's power plant is that it'll be a standard 3 valve 4.6L Mustang GT engine with a Ford Racing Power Pack installed resulting in 312 horsepower. However StangsUnleashed.com claims to have sources that tell them it'll be a 400hp DOHC 4.6L mated to a six speed manual transmission. It's hard to say for sure who to believe, but if these guys are right the Bullitt is going to be one wicked ride. To further increase performance it's expected that the Bullitt will also get 3.73 rear end gears, and a beefed up exhaust with an Xpipe.

Suspension/Chassis: Just like the '01 Bullitt the 2008 is expected to get different shocks and struts to give it a slightly sportier ride than the GT. Other chassis improvements include a strut tower brace to stiffen things up, and an upgraded steering system.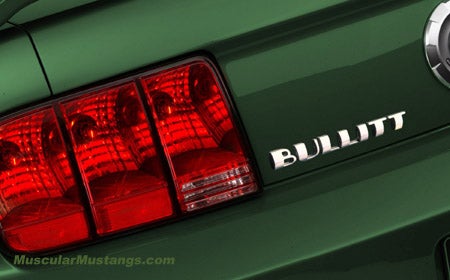 2008 Bullitt Mustang Emblem Rendering


Exterior: The obvious exterior mods that make up a Bullitt are the dark green paint, and 18" "Bullitt" wheels. However Ford has more plans in store for the looks of the Bullitt including a V6 grill (no fog lights, possibly no pony emblem), Faux rear gas cap with Bullitt logo, and red painted brake calipers. Word is that Ford may also make the Bullitt available in black.


2008 Bullitt Mustang Shifter Rendering


Interior: As in '01 Ford is planning a few interior upgrades for the '08 Bullitt to set it apart. An aluminum shift knob, aluminum trim, Bullitt embossed sill plates, and special leather seating to name a few.

Pricing/Availability: There's no word on pricing, but if the current crop of specialty Mustangs tell us anything expect to pay through the nose. Ford expects to build roughly 7,500 Bullitt Mustangs during the second half of 2008 model year. Speaking of the 2008 model year, the Bullitt will actually be a 2008 1/2 model which we expect to be unveiled at the '08 New York International Auto Show. However if sales slip we may see it unveiled sooner.

Related:
2001 and 1968 Bullitt Mustang Pictures
2008 Shelby GT500 Information
2008 Shelby GT500 KR Pictures
Carroll Shelby Speaks about the GT500 KR History
2007 Shelby GT500 Specifications