Banned
Join Date: May 2004
Location: NEPA
Posts: 2,112
Mentioned: 0 Post(s)
Tagged: 0 Thread(s)
Quoted: 0 Post(s)
2012 NMRA Event Schedule Announced
---
The NMRA Ford Nationals, the #1 all-Ford Motorsport show in the U.S., is pleased to announce its 2012 series event schedule. Next year's schedule includes familiar favorites and a new Maryland event that will bring awesome all-Ford racing to the mid-Atlantic region

March 1-4, 2012
18th Annual Nitto Tire NMRA Spring Break Shootout Presented by Steeda
Bradenton Motorsports Park – Bradenton, Florida

April 12-15, 2012
4th Annual Nitto Tire NMRA/NMCA All-Star Nationals
Atlanta Dragway – Commerce, Georgia

May 4-6, 2012
11th Annual NMRA Ford Nationals
Maryland Int'l Raceway – Mechanicsville, Maryland

June 15-16, 2012
9th Annual NMRA Ford Nationals
Milan Dragway – Milan, Michigan

July 12-15, 2012
7th Annual Nitto Tire NMRA/NMCA Super Bowl of Street Legal Drag Racing Presented by Miller Welders
Route 66 Raceway - Joliet, Illinois

Aug. 31 - Sept 2, 2012
34th Annual NMRA Ford Expo
National Trail Raceway – Columbus, Ohio

Oct. 4-7, 2012
14th Annual Nitto Tire NMRA All-Ford World Finals
Bend Raceway – Bowling Green, Kentucky

November 9-11, 2012
3rd Annual Nitto Tire NMRA/NMCA Lone Star Shootout
Royal Purple Raceway – Houston, Texas




Junior Member
Join Date: Feb 2012
Posts: 12
Mentioned: 0 Post(s)
Tagged: 0 Thread(s)
Quoted: 0 Post(s)
Re: 2012 NMRA Event Schedule Announced
---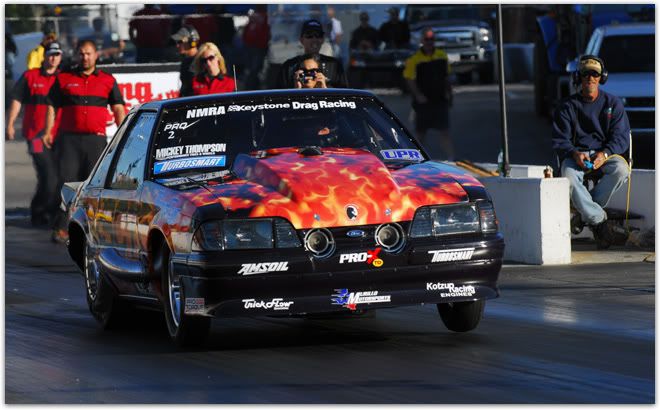 The NMRA Ford Nationals, the #1 all-Ford Motorsport show in the U.S., is pleased to announce its 2012 series event schedule. Next year's schedule includes familiar favorites and a new Maryland event that will bring awesome all-Ford racing to the mid-Atlantic region.
?March 1-4, 2012 18th Annual Nitto Tire NMRA Spring Break Shootout Presented by Steeda Bradenton Motorsports Park – Bradenton, Florida
?April 12-15, 2012 4th Annual Nitto Tire NMRA/NMCA All-Star Nationals Atlanta Dragway – Commerce, Georgia
?May 4-6, 2012 11th Annual NMRA Ford Nationals Maryland Int'l Raceway – Mechanicsville, Maryland
? June 15-16, 2012 9th Annual NMRA Ford Nationals Milan Dragway – Milan, Michigan
?July 12-15, 2012 7th Annual Nitto Tire NMRA/NMCA Super Bowl of Street Legal Drag Racing Presented by Miller Welders Route 66 Raceway – Joliet, Illinois
?Aug. 31 – Sept 2, 2012 34th Annual NMRA Ford Expo National Trail Raceway – Columbus, Ohio
?Oct. 4-7, 2012 14th Annual Nitto Tire NMRA All-Ford World Finals Featuring 5.0 Mustang's King of the Street Beech Bend Raceway – Bowling Green, Kentucky
?November 9-11, 2012 3rd Annual Nitto Tire NMRA/NMCA Lone Star Shootout Royal Purple Raceway – Houston, Texas
The NMRA Ford Nationals is the #1 all-Ford motorsport show in the U.S., attracting the most racers, fans, sponsors, and contingency. Each NMRA event features awesome heads-up Ford racing, a huge UPR Products all-Ford car show, a giant manufacturers midway & swap meet, burnout contest, 300+ mph jet car, true street, and bracket racing. NMRA event action can be found regularly in 5.0 Mustang & Super Fords, Muscle Mustangs & Fast Fords, and in Race Pages, the NMRA's own monthly publication.
Junior Member
Join Date: Feb 2012
Posts: 12
Mentioned: 0 Post(s)
Tagged: 0 Thread(s)
Quoted: 0 Post(s)
Re: 2012 NMRA Event Schedule Announced
---
Jacky Jones Ford & Ford Racing
Bring Cobra Jet Showdown to NMRA Season Opener
The NMRA Keystone Automotive Ford Nationals is proud to announce that Jacky Jones Ford & Ford Racing will sponsor a special Cobra Jet Showdown that will run at the Nitto Tire NMRA Spring Break Shootout event at Bradenton Motorsports Park in Bradenton, FL, the weekend of March 1-4, 2012. Watch as Cobra Jets from all around the U.S. converge on Bradenton Motorsports Park and set their combinations on kill for the prestigious title of Cobra Jet Showdown Champion! Jacky Jones Ford, the leading Cobra Jet dealer in the southeast and presenting sponsor of the Showdown, will be at the event with customer cars and a great display on NMRA's huge manufacturers midway.
"Cobra Jets have had amazing success on the track and truly showcase Blue Oval power. The Cobra Jet Showdown gives CJ owners another great opportunity to experience what their Cobra Jets can do," said Steve Wolcott, NMRA's CEO. "The NMRA Spring Break Shootout is the place to be for Ford racing fans…and the addition of the Ford Racing Cobra Jet Showdown further ads to an already incredible event. A big thank you to Jacky Jones Ford for sponsoring this class and supporting Cobra Jet owners around the U.S."
The class will qualify on Friday, and run on a Sportsman ladder with a .500 full tree for Saturday eliminations. The class will feature a $2,500 purse and the overall winner of the Showdown will receive $1,000, a custom jacket & award, and great exposure in national magazines like 5.0 Mustang & Super Fords, Muscle Mustangs & Fast Fords, and NMRA's own Race Pages.
For more information on the Cobra Jet Showdown including rules and purses log on to
www.nmradigital.com/FL
.
Junior Member
Join Date: Feb 2012
Posts: 12
Mentioned: 0 Post(s)
Tagged: 0 Thread(s)
Quoted: 0 Post(s)
Re: 2012 NMRA Event Schedule Announced
---