Join Date: Jan 2007
Posts: 1
Mentioned: 0 Post(s)
Tagged: 0 Thread(s)
Quoted: 0 Post(s)
Super Stang Fest Daytona
---
Just wanted to invite everyone out to Super Stang Fest in Daytona Beach June 5th-9th!
Also to let everyone know we have several magazines that will be covering Super Stang Fest...
Modified Mustangs,The Mustang Times, Muscle Mustangs & Fast Fords, and Mustang Enthusiants
will be on hand as well as some of the editors,etc. Also if anyone is wishing to register paying by cash/check or money order you can do so by filling out the attached form and mailing it in or of course you can use the online paypal option...See you all in Daytona!!!
http://www.superstangfest.com/pdf/SSFRegistration.pdf
ONLINE REGISTRATION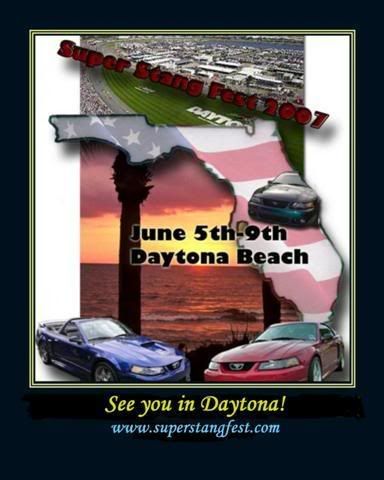 Banned
Join Date: May 2004
Location: NEPA
Posts: 2,112
Mentioned: 0 Post(s)
Tagged: 0 Thread(s)
Quoted: 0 Post(s)