Banned
Join Date: May 2004
Location: NEPA
Posts: 2,112
Mentioned: 0 Post(s)
Tagged: 0 Thread(s)
Quoted: 0 Post(s)
2006 Ford Mustang Shelby GT-H
---
Banned
Join Date: May 2004
Location: NEPA
Posts: 2,112
Mentioned: 0 Post(s)
Tagged: 0 Thread(s)
Quoted: 0 Post(s)
The following images are coutesy of Shelby Automobiles Inc Website. You can see even more images in their
photo gallery
Below are buildup images of the Prototype 2006 Shelby Mustang GT-H.
Banned
Join Date: May 2004
Location: NEPA
Posts: 2,112
Mentioned: 0 Post(s)
Tagged: 0 Thread(s)
Quoted: 0 Post(s)
According the the Hertz website the Hertz Fun Collection vehicles are available for rent at select airport locations in the following areas:
Arizona
Phoenix
California
Burbank
Los Angeles
Oakland
Orange
San Diego
San Francisco
San Jose
Colorado
Denver
Florida
Ft. Lauderdale
Ft. Meyers
Miami
Orlando
Tampa
West Palm Beach
Hawaii
Honolulu (Oahu Airport)
Maui
Nevada
Las Vegas
Unfortunately none of them are anywhere near me. I'd love to rent one of these for the day and try to sneak it into the local drag strip...LOL

Banned
Join Date: May 2004
Location: NEPA
Posts: 2,112
Mentioned: 0 Post(s)
Tagged: 0 Thread(s)
Quoted: 0 Post(s)
Courtesy of Chris Kassab | Ford Communications Network
---------------------------------------------------------------------------------------
April 12, 2006 -- They're baaaaack!

Ford has announced at the New York Auto Show that it is bringing back the famed Shelby GT-H "Rent-A-Racer" program this summer.

A special run of 500 performance-modified Ford Mustang GTs -- designated GT-H for "Hertz" -- will be produced by Shelby Automobiles and available at select Hertz locations to mark the 40th anniversary of the legendary program that offered car enthusiasts the unique opportunity to rent and drive a high-performance sports car.

"Like the original Hertz cars, the Shelby GT-H will be a hoot to drive," said Carroll Shelby, CEO of Shelby Automobiles, Inc. "We started with a terrific Mustang and modified it with some Ford Racing go-fast parts and gave it a distinct look for Shelby-style driving. Whoever gets the opportunity to rent one of these unique cars will get an experience of a lifetime."

No one is more delighted about the new Shelby GT-H than Randy Betki.

"I'm so glad to see it come back," said Betki, a product/systems design engineer at Research and Vehicle Technology in Dearborn.

Betki was 12 when the original Shelby GT 350-H "Rent-A-Racer" was introduced in 1966. But he doesn't have to reach that far back into his memory to remember the car because he has one in his garage. He bought it 23 years ago and restored it to its original glory.

"It's a rare car, and it's a lot of fun to drive," he said. "When I'm driving it down the road, people usually nod in appreciation or give the thumbs-up."

When Shelby wanted to compare the vintage vehicle to the modern-day GT-H at Ford's design studio in Dearborn, he asked the company for help locating a car. They knew exactly who to call.

"This was when there was snow on the ground, and I said 'I don't think so,' " said Betki, noting that no sane car collector would ever allow one of his prized possessions to be driven in inclement weather. "Then they said they'd come and pick it up in an enclosed trailer, so I said, 'Fine.' "

When the car arrived at the studio, Betki was invited to come, too. He got the chance to talk with Shelby and get a sneak peak at the new GT-H.

"The new car bears a lot of resemblance to the original," he said. "It's got the shiny black exterior with the gold racing stripe down the middle, and it has the signature Shelby front grille."

Like the original, the GT-H will also possess some impressive performance credentials. Among other things, Ford Racing Performance Parts (FRPP) is supplying its FRPP Power Pack to add a 25-horsepower kick to the 300-horse Mustang GT 4.6L V-8.

"The FRPP Group's involvement with niche builds like this Hertz project is a natural for us as well as for Hertz and Shelby," said Jamie Allison, program manager, FRPP. "The Shelby GT-H demonstrates just how well-balanced our out-of-the-box Ford Performance parts really are."

Ford Racing will be working hand-in-hand with technicians at Shelby Automobile's assembly facility in Las Vegas during the build-out of the GT-H.

"The teams at Ford, Hertz and Shelby Automobiles have put together a pony that not only has a special look, but it can really run, too," said Shelby. "The lucky few who get to rent a GT-H will have the opportunity to enjoy a car that looks, accelerates, handles and sounds the way a high-performance Ford Mustang should."

Back in 1966, you could rent a Shelby GT 350-H for $17 a day and 17 cents a mile for gas. The times have definitely changed. What hasn't changed is the passion that's ignited whenever the name "Carroll Shelby" is paired with the iconic Mustang sports car.

"As soon as you hear that it's a Shelby, that it's a Mustang, and that it's black and gold, that's really all you need to know," said Betki.




Guest
Posts: n/a
Mentioned: Post(s)
Tagged: Thread(s)
Quoted: Post(s)
Join Date: Aug 2005
Posts: 35
Mentioned: 0 Post(s)
Tagged: 0 Thread(s)
Quoted: 0 Post(s)
I wish they would release this car for sale to the public.
They could call it a GT 350.
With a spoiler and stripe delete option, of course...and in retro (60s) colors.
Banned
Join Date: May 2004
Location: NEPA
Posts: 2,112
Mentioned: 0 Post(s)
Tagged: 0 Thread(s)
Quoted: 0 Post(s)
I agree. Such a nice looking but its not for sale. At the very least i wish they'd have them available to rent in more areas.




Banned
Join Date: May 2004
Location: NEPA
Posts: 2,112
Mentioned: 0 Post(s)
Tagged: 0 Thread(s)
Quoted: 0 Post(s)
Found these pictures of the Shebly GT-H on Photobucket.
Junior Member
Join Date: Nov 2006
Location: Long Island N.Y.
Posts: 3
Mentioned: 0 Post(s)
Tagged: 0 Thread(s)
Quoted: 0 Post(s)
I rented one in Fla.. It was a lot of FUN...........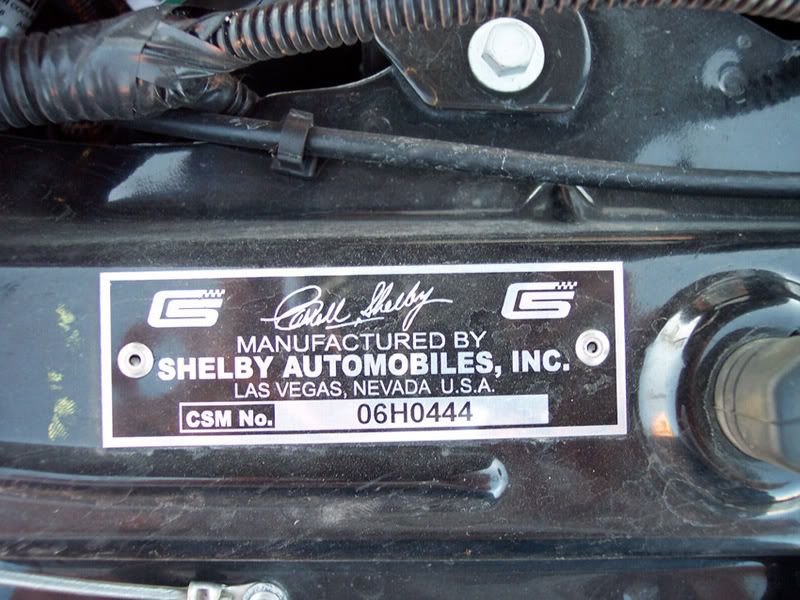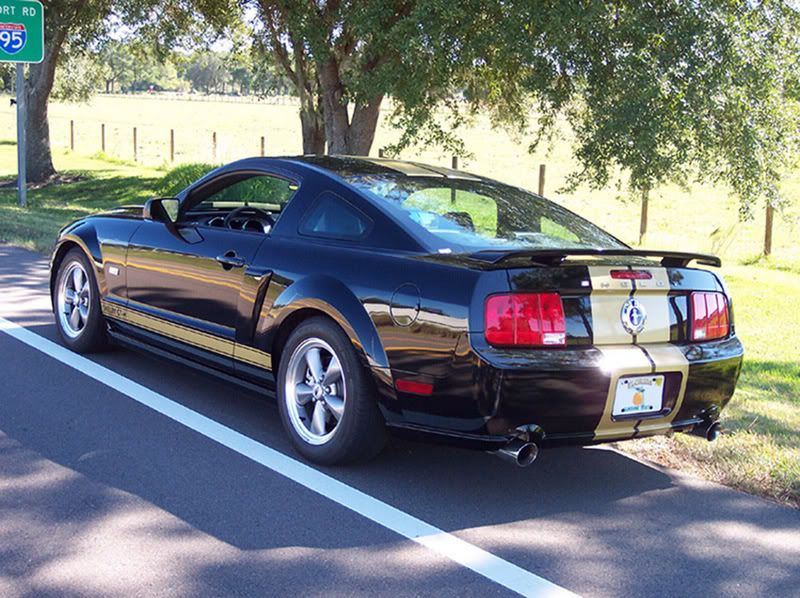 VIDEO
http://s79.photobucket.com/albums/j148/ ... 0_3008.flv
---
Left Lane Is For Passing ! ! ! ! Slower Traffic Keep Right ! ! ! !
Banned
Join Date: May 2004
Location: NEPA
Posts: 2,112
Mentioned: 0 Post(s)
Tagged: 0 Thread(s)
Quoted: 0 Post(s)